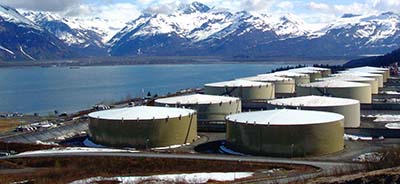 The Council monitors terminal operations and maintenance, air and water quality standards, reviews operating permits and protocols, and conducts independent research on topics such as corrosion and piping inspection technologies.
Through the work of the terminal operations program, a number of significant improvements have helped reduce environmental impacts from the terminal.
Prior to 1998, large amounts of hydrocarbon vapors, including known carcinogens such as benzene, were released into the atmosphere as crude oil was loaded onto tanker ships. Work done in this program helped the Council advocate for a vapor recovery system to capture those harmful vapors. In 1998, Alyeska finished installing vapor recovery systems on its two active loading berths, eliminating the emission of those hydrocarbons.
Prior to 2009, the ballast water treatment facility on the terminal was also a large source of atmospheric emissions of hydrocarbons. The reason for this was because one of the treatment stages, dissolved air flotation, was open to the atmosphere allowing hydrocarbons to escape. Through this program the Council advocated that these vapors be contained. In 2009 and 2010, Alyeska covered the dissolved air flotation tanks, eliminating this source of air contamination.
On September 21, approximately 100 gallons of North Slope Crude oil was spilled into Port Valdez. The spill occurred during ...
Read more.
The council has benefited from Chicago-born Tom Kuckertz' broad experience in engineering for 16 years and counting. After his retirement ...
Read more.
Submitted by Alyeska Corporate Communications. This summer, Alyeska's multi-year internal inspection program of Valdez Marine Terminal piping included inspecting buried ...
Read more.
Update: This article ran in the May issue of our newsletter, The Observer, stay tuned for updates in the next ...
Read more.
By AUSTIN LOVE Council Project Manager In December, Alyeska Pipeline Service Company and the City of Valdez agreed to a ...
Read more.
A new report on the effects of small amounts of hydrocarbons on Port Valdez shrimp is now available. The report ...
Read more.
Read Older News