Exercises required for marine transition
A series of drills and exercises, including one large no-notice drill, helped assess the new system in Prince William Sound.
Throughout the past year, Alyeska conducted a series of exercises designed to meet requirements from the Alaska Department of Environmental Conservation and train the crews aboard Edison Chouest Offshore's new vessels. Some exercises were conducted during windy conditions and others during darkness.
In June, the department approved major amendments to the oil spill contingency plans for the Valdez Marine Terminal and the tankers that transport oil through Prince William Sound. These amendments stemmed from the change of spill prevention and response contractors to Edison Chouest Offshore, who took over from Crowley Maritime last July. The approval came with conditions, which required specific exercises and training for the new equipment and personnel.
The department required each of the five escort tugs, the four general purpose tugs, and the Ross Chouest utility tug to conduct exercises with oil spill response barges. In addition, the department specified that some of these exercises had to occur in winds of at least 20 knots (23 miles per hour) and in darkness.
Some exercises tested the tugs' spill prevention capabilities. Each of the five escort tugs stopped a laden tanker traveling at 10 knots (over 11 miles per hour) and at 6 knots (almost 7 miles per hour). All tugs demonstrated their abilities to stop and tow a stricken tanker.
Many of these exercises were completed during the summer prior to July 1, when Edison Chouest officially took over the contract, but some of the darkness and heavier weather events took place after the transition.
Alyeska was given until December 31, 2018 to complete these exercises, however they were completed earlier. All vessels met the department's standards.
With these new assets approved, the current version of the tanker plan will be in place through February 2022. The terminal's plan is up for renewal later this year.
Annual fall shippers' drill
Crowley Alaska Tankers hosted a large-scale table-top exercise in October.
For this annual drill, the role of the "spiller" alternates among the shipping companies that move oil through Prince William Sound. Crowley Alaska Tankers' new role in the Prince William Sound system means they join the rotation. (Approximately 200?) Two hundred people participated in this drill.
This year, the scenario involved a tanker colliding with an out of control vessel causing an instantaneous release of 140,000 barrels, or almost 6 million gallons, of crude oil into central Prince William Sound. Simulated weather moved the spill towards the village of Tatitlek; a trajectory typically not usually played in these sorts of large exercises.
One of the exercise highlights was the Regional Stakeholders Committee. This committee is an avenue for stakeholders to offer their support, resources, and expertise, as well as to express their concerns, to the response leaders in the event of a spill. Representatives from the City of Valdez, the City of Whittier, and the Council participated during this drill.
No-notice drill included equipment deployments
In November, the department surprised Alyeska with a larger-scale unannounced drill. This was the first unannounced drill in recent memory to be held at night.
The call came at 5:57 p.m. on November 6. The scenario was that the crew of a tug smelled spilled oil while escorting a loaded tanker through the Sound. The department asked Alyeska to deploy two open water task forces, each of which included an oil spill response barge and associated equipment. Five fishing vessels under contract with Alyeska for spill response participated in the drill.
Council staff were on hand for the exercise, and observers were pleased that the drill included several challenges that added realism, including:
The drill was planned to last 18 hours to simulate the long hours of a real event.
Crews were asked to don protective gear which would be needed in the event of an actual spill. Previous drills had not required as much gear. Council observers noted several issues, including the challenge of communicating while wearing a respirator and that not all personnel wore the protective equipment.
A buoy was set adrift for responders to simulate tracking an actual oil slick.

Five previously untested "geographic response strategies" were deployed in September.
Geographic response strategies are oil spill response plans tailored to protect specific environmentally sensitive sites. By selecting and mapping these locations in advance, these strategies can save time during the critical first few hours of oil spill response.
Deploying equipment at these sites is important to verify that the plans work as intended. In this photo, responders from the fishing vessel fleet remove a section of boom after it was discovered anticipated boom lengths were too long at this site.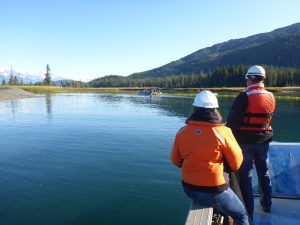 More details
There are just a few highlights of the drills and exercises observed by the Council every year. Additional details are available in our annual drill monitoring report, available online: Preparedness Monitoring