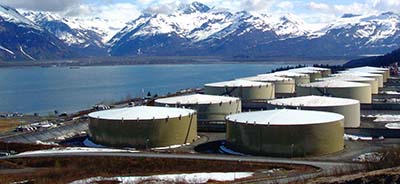 The Council monitors terminal operations and maintenance, air and water quality standards, reviews operating permits and protocols, and conducts independent research on topics such as corrosion and piping inspection technologies.
Through the work of the terminal operations program, a number of significant improvements have helped reduce environmental impacts from the terminal.
Prior to 1998, large amounts of hydrocarbon vapors, including known carcinogens such as benzene, were released into the atmosphere as crude oil was loaded onto tanker ships. Work done in this program helped the Council advocate for a vapor recovery system to capture those harmful vapors. In 1998, Alyeska finished installing vapor recovery systems on its two active loading berths, eliminating the emission of those hydrocarbons.
Prior to 2009, the ballast water treatment facility on the terminal was also a large source of atmospheric emissions of hydrocarbons. The reason for this was because one of the treatment stages, dissolved air flotation, was open to the atmosphere allowing hydrocarbons to escape. Through this program the Council advocated that these vapors be contained. In 2009 and 2010, Alyeska covered the dissolved air flotation tanks, eliminating this source of air contamination.